Sometimes it may happen that a scar tissue forms around a breast implant. You will recognize the complication when you touch the breast and it feels harder and it may also change in shape. The scar tissue can press the implant and cause pain or visibly deform the breast. We are experienced in tackling the complication and we know how to help you.
The incidence of capsular contracture is about 2-5% in all breast augmentations. The exact causes of a capsule formation are mostly unknown; the condition is influenced by many factors. The known causes include chronic infection around the implant, hematoma and contact with silicone gel in case the implant coating is damaged. A lower capsule formation incidence is reported at modern and high-quality breast implants.

MENTOR® breast implants, used at the Body Clinic, report statistically the lowest incidence of the complication thanks to patented Siltex® coating.
DOCTOR AT THE CLINIC 24 Hours a Day
HIGH LEVEL OF SATISFACTION 98 %
SURGERY COST FROM Price on Request
Do you need any advice regarding breast capsulectomy?
Consult our experienced professionals on-line.
Methods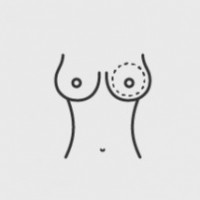 Breast capsulectomy methods
Capsule opening and release - capsulectomy with immediate replacement of old or new implant
Capsule removal - capsulectomy with immediate replacement of old or new implant
Combination of methods
Surgical process
We specialize in breast surgeries of all kinds. Body Clinic can help you on the highest professional level. We master and perform a complete range of surgeries (breast augmentation, breast reduction, breast lift, fat transfer breast augmentation...)
We understand that the procedure is your very intimate and personal matter. We are ready to discuss anything, and our specialists will give you professional in-person consultations.
We will explain everything very carefully. We will take necessary photographs before the surgery and the surgeon will draw his approach directly on your skin. Do not be afraid to ask anything.
The surgery will be performed under general anaesthesia, on the day of your admission to the Clinic. The whole procedure (depending on the type and scope) takes about 1 to 3 hours.
Recovery
Postoperative instructions, follow-ups and recovery are mostly the same as in the case of your first surgery - breast augmentation.
Surgeon
Our team includes solely certified plastic surgeons with broad experience. Their highly professional and yet empathetic approach is our biggest benefit.
Possible risks of breast capsulectomy
Every surgery, regardless of its best intentions, is always an intervention to your body. And that is the reason why complications cannot be avoided from time to time. What are some possible complications?
General risks of surgeries under general anaesthesia
These are generally known risks related to surgeries under general anaesthesia.
haemorrhage - hematoma, infection, pulmonary embolism, abnormal healing process, postoperative wound opening, keloid scar formation etc.)
Specific risks related to breast capsulectomy
Postoperative formation of a fibre tissue capsule surrounding the breast prosthesis is a normal, physiologic response to the implantation of a foreign body, therefore a capsule formation is a normal process. However, a problem occurs if the capsule begins to contract more - and so-called capsular contracture occurs.
Kapsulární kontraktura – stažení fibrózní kapsy
Kontraktury se vyskytují od tenkých (stupeň I a II) až po silně ztluštělé, doprovázené pocitem bolesti a změny kontury prsu (stupeň III a IV). Lehčí formy kapsulární kontraktury (stupně II) lze léčit neinvazivně (např. masážemi), u vyšších stupňů (III a IV) je pak nutné chirurgické řešení.
Ke kontraktuře (stažení) fibrózní kapsy může dojít i opakovaně. Pravděpodobnost tohoto jevu se udává kolem 2-5% po první operaci prsou, problém může nastat kdykoliv po operaci.
V případě výskytu kapsuly a po jejím odstranění je riziko jejího opakovaného vzniku dokonce o něco vyšší než po první operaci. Jsou popsány případy opakovaného vzniku kapsuly, které si nakonec vyžádají trvalé odstranění implantátů.
Další rizika a případné komplikace jsou shodná s těmi, která platí pro první operaci prsou, ale pravděpodobnost jejich vzniku je dokonce vyšší
Why choose us?
A top team of plastic surgeons
Our team consists of the best certified professionals. We have valuable experience and excellent references.
Thousands of successful procedures
Our surgeons have been in the business for more than 20 years. They have successfully performed thousands of operations and helped many patients.
State-of-the-art operating theatre
Our equipment and applied standards meet the strictest international standards. It is important for a successful surgery as well as for your safety after the procedure.
Do you consider a treatment?
What are the most frequent questions? You can ask us about anything. Don't feel ashamed, we are ready to help you.
Plan an appointment today. An experienced doctor will take care of you and you will learn many important facts.
Do you need advice? Contact us right now, we are at your disposal. We are ready to help you by formulating a question or scheduling an appointment with our doctors.