Beautiful, full and natural lips are the dream of almost every woman. Do you wish to have more sensual lips? Do you need a correction of lip asymmetry or need help with congenital and post-injury lip deformity? We are ready to help you!
We can augment your lips with several different methods. At our Clinic, we offer the following methods:
Lip augmentation with hyaluronic-acid-based fillers
Fat transfer lip augmentation
Advantages of lip augmentation
The biggest advantage is the immediate effect.
We will change your thin lips, which make your face look stricter, into fuller and more sensual ones.
This will add gentleness to your face, and enhance your self-confidence.
Minimum pain.
HIGH LEVEL OF SATISFACTION 98 %
Do you consider lip augmentation and need advice?
Consult our experienced professionals on-line.
Methods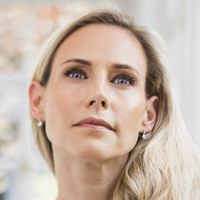 Dermal filler lip augmentation
Hyaluronic-acid-based dermal fillers currently represent the golden standard in the area of facial filling materials.
Hyaluronic-acid-based dermal fillers currently represent the golden standard in the area of facial filling materials.
Hyaluronic acid is naturally present in the body, it is contained in the skin, joints and eyes. It can bind a large quantity of water in skin and the subcutaneous layer. Therefore, it helps a lot with skin flexibility and quality. Hyaluronic acid for medical purposes is produced in laboratory.
Allergic reactions are extremely rare. Generally, the purer the dermal filler with hyaluronic acid is, the smaller the chance of any unwanted reaction.
We follow the latest trends and developments. Therefore, we work with temporary materials - so-called biodegradable, which can be degraded by the body.
That is the reason why the Body Clinic does not offer lip augmentation with permanent fillers, which have a substantially higher percentage of later complications and unwanted reactions.
Fat transfer lip augmentation
It has been used in medicine for many years. The advantage is there is zero chance of an allergic reaction and you're feeling good that no foreign material is applied into your body.
The autologous fat application method has recently experienced great revival in connection to face and breast surgeries. It belongs among many very popular procedures.
Autologous fat can be used as filler not only in lip augmentation but also to smooth out deep wrinkles (e.g. nasolabial or in the area between the eyebrows). The advantages of autologous fat include safety and long-lasting effect of the applied volume.
The disadvantages are the necessity to harvest fat from another place on your body and necessary initial overfilling (bigger amount of fat is applied) because part of the fat gets absorbed after some time. Therefore, your appearance is not natural in the first couple of days. Do not be afraid, it will all disappear, it is only a temporary condition which you have to expect.
Surgical process
Lip augmentation is an outpatient procedure. No preoperative examination is necessary for lip augmentation.
If you are to undergo fat harvesting, do not eat or drink for approximately 2 hours before the procedure. Do not smoke 24 hours before the procedure and do not take medicines containing acetylsalicylic acid (Acylpyrin, Aspirin, Aspro, Acylcoffin, Anopyrin, Upsarin etc.) at least one week before the procedure.
Fat is harvested under local anaesthesia from a suitable area on your body (hips, buttocks, navel area etc.), refined and applied to the lips. If some fat remains, it can be used to smooth out wrinkles.
During lip augmentation with hyaluronic acid, we apply the dermal filling with a thin needle to the necessary points on your lips.
To make the procedure as painless as possible, we can, in any case, treat your lips with the anaesthetic cream Emla or an anaesthetic injection before the filler is applied.
Recovery
After lip augmentation with hyaluronic acid do not touch the treated area in the first few hours after the procedure and rest for the whole day.
After the fat transfer lip augmentation, we recommend cooling your lips. Do not bend forward and strain in the first few hours after the procedure. Do not eat hard food for at least 1-2 days and give yourself at least one-day rest.
Just as a prevention, apply an antibiotic cream on your lips, e.g. Zovirax. Do not massage the lips in any case, avoid saunas and do not expose yourself to sunshine. The follow-up is scheduled approximately one week later.
In case of fat transfer, the recovery is longer, swelling and bruises can last a week or longer.
Possible risks
Especially if you fail to rest shortly after the application, bleeding may occur, and a hematoma may form.

Neither fat nor hyaluronic acid will augment your lips for ever. It is necessary to expect a gradually vanishing effect, depending on the time of absorbability of the filler and the chosen method.

Longer-lasting swelling and bruises occur at some methods, especially when autologous fat or dermofat is used.
Asymmetry, irregular lip shape and temporary lip stiffening are not frequent but possible complications. With current fillers there is almost no chance of a reaction to foreign filling material. However, changes of lip shape, movement of foreign material, stiffening and bulging may occur over time.

Herpes virus infection is prevented by the application of lip creams with antibiotics.
However, there are cases of this infection being reported.

As a result of some of these complications, a corrective procedure may be later necessary.
Why choose us?
A top team of plastic surgeons
Our team consists of the best certified professionals. We have valuable experience and excellent references.
Thousands of successful procedures
Our surgeons have been in the business for more than 20 years. They have successfully performed thousands of operations and helped many patients.
State-of-the-art operating theatre
Our equipment and applied standards meet the strictest international standards. It is important for a successful surgery as well as for your safety after the procedure.
Do you consider a treatment?
What are the most frequent questions? You can ask us about anything. Don't feel ashamed, we are ready to help you.
Plan an appointment today. An experienced doctor will take care of you and you will learn many important facts.
Do you need advice? Contact us right now, we are at your disposal. We are ready to help you by formulating a question or scheduling an appointment with our doctors.